After careful consideration of the health and safety of the industry, ISSA Show North America 2020 will be a virtual event experience November 16-19, replacing the live event in Las Vegas.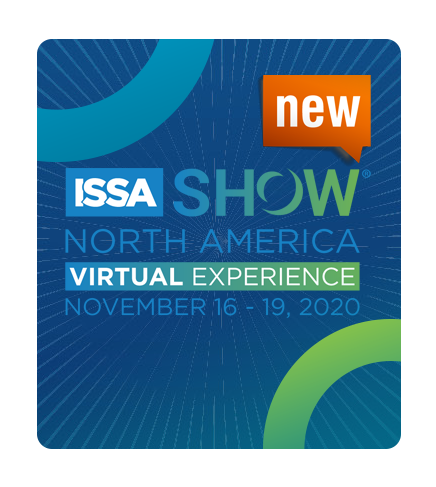 The ISSA Show North America Virtual Trade Show and Conference is built with the flexibility to design your own experience. Just favorite what you're most interested in, then watch, read and discover at your own pace. Mixed with live and on-demand content, the Virtual Experience makes it easier than ever for industry professionals to participate.
Environmental health and safety professionals at colleges and universities, K-12 schools, hospitals, all patient-care facilities, and the office in all its configurations from a one-story suburban park to an 80+ story skyscraper, will get online to hear experts share their best advice for preventing the spread of the coronavirus.
The return to the workplace is on everyone's mind, encompassing every place the public gathers to reopen and reignite the economy. Wherever work is performed, it is likely organizations will be adding uniformed, visible cleaning staff to ensure surfaces are being cleaned, pantries are pristine, and all the high-touch surfaces are regularly sanitized to keep everyone healthy.
Facilities managers, along with human resources professionals and members of the C-suite, will have plans in place for social distancing and frequent cleaning of employee and student gathering areas. They are looking to expand solutions, prepare for the flu season, and the potential for a second wave of coronavirus infections and cases of COVID-19 in schools, healthcare facilities, workplaces, and religious institutions.
The ISSA Show North America is the one week where ISSA members and the entire professional cleaning industry come together to learn and do business. It's where attendees discover new solutions for improving their efficiency, skills, and profitability, and this year it will be virtual. ISSA is the world's leading trade association for the cleaning industry. The association is committed to changing the way the world views cleaning by providing its more than 9,300 member organizations with the business tools they need to promote cleaning as an investment in human health, the environment, and an improved bottom line.
Education sessions begin on Nov. 16 through the 19th in the following tracks: Commercial Cleaning; Green Schools & Colleges; Healthcare; Hospitality; Infection Prevention & Control; Innovation On-Demand; Residential Cleaning; Restoration & Remediation; and Distributor. The trade show is online Nov. 17 through 19.
COVID-19 education sessions, certifications and workshops
The ISSA conference program offers more than 100 education sessions and workshops are expanding from six last year to 16. "The conference program covers many other critical areas in addition to the tracks," said Kim Althoff, ISSA vice president of trade shows, education, media, and sales. "To date, we have sixteen certifications and workshops on the schedule spanning all four days of the event." Below are examples of the education sessions that will address the COVID-19 pandemic, lessons learned, as well as detecting and preventing the spread of infectious diseases:
COVID-19 The Triad – Understanding the COVID-19 pandemic and the implications to health care providers and staff, this session will address the three key departments and the associated implications going forward. Presented by IEHA, a Division of ISSA.
COVID-19 Response: Maintaining Healthy Green Schools & Colleges during a Global Pandemic – Learn the importance of proactive leadership during public health crises, how to develop key processes and best practices to ensure staff are trained and prepared for future emergency response. Presented by Healthy Green Schools & Colleges
Having a Safe Workplace-More Important than You May Think! – What does it mean to have a safe workplace? How do we define that concept? What does it take to make an environment safe? Who and what does it benefit, and what does it cost us if we don't? Speaker: David Bass, training & Safety Compliance, Manager at Crothall Healthcare at DuKe University Hospital.
GBAC Bioremediation and Response Fundamentals (2-day workshop) – Develop the knowledge and competence to identify, evaluate, reduce, and eliminate biological threats and improve environmental and patient recovery. This two-part course demonstrates hands-on situational response training and covers the fundamentals of biohazardous material cleanup and waste management. Presented by GBAC, a Division of ISSA.
Further, ISSA is dedicated to helping facilities managers, sanitation staff and cleaning industry professionals understand how to properly clean and safely disinfect for the novel coronavirus (SARS-CoV-2). Visit the association's coronavirus resource page to access regularly updated information such as downloadable tip sheets, online training, webinars, government updates and additional business resources for the industry.
Registration is open for the virtual ISSA Show North America.