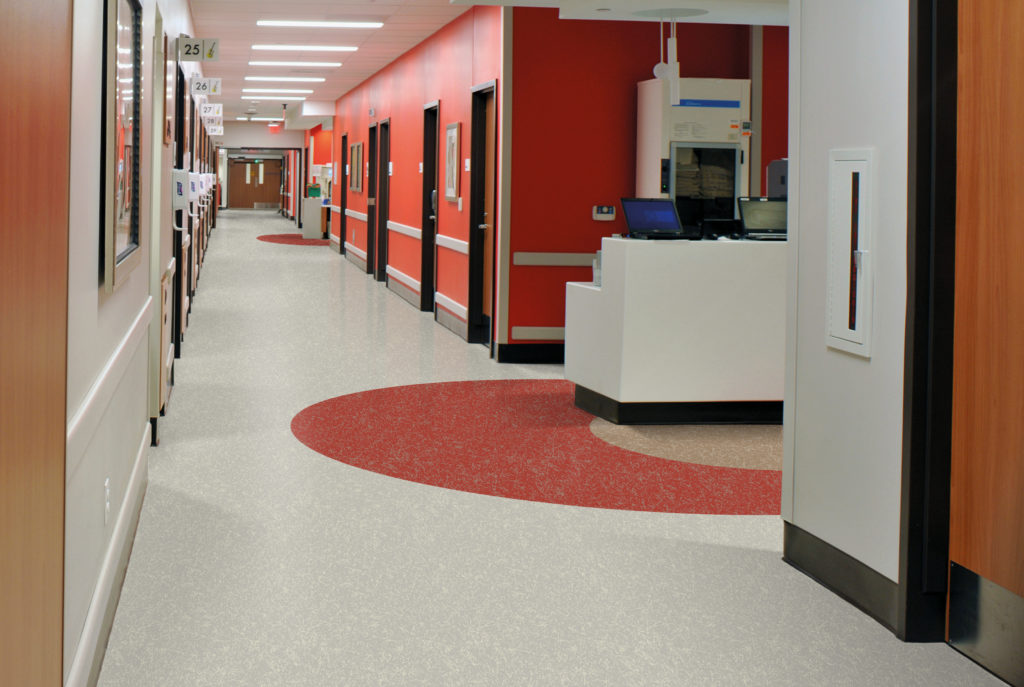 nora systems, Inc. introduces noraplan lona, a premium rubber floor covering that inspires the creation of spaces that invite innovation and visionary thinking.
For inpatient and outpatient facilities, noraplan lona's  holistic form fosters a positive patient experience while meeting the highly specialized needs of healthcare spaces with engaging designs. The floor combines all the material advantages of premium rubber flooring from perception of cleanliness, a quiet healing environment, right down to caregiver retention with a color palette of rich and vibrant tones. The result is a floor covering that connects patients, families, providers and caregivers to the inspired possibilities of every healing environment, supporting positive outcomes and patient engagement.
The flooring offers a silk-matte finish that features splashes and droplets in a range of colors and accents that capture the momentum of artistic expression and harness the essence of creativity. The result is a versatile floor covering that sets the mood for an environment of bold experimentation and innovative new approaches that express a building's character.
"Guided by the needs of our customers, we developed innovative technologies that deliver the unique design flexibility that defines noraplan lona," said Tim Cole, vice president of marketing at nora systems, Inc., North America. "Wherever it is installed, the floor brings every room to life with the energy of an artist's studio, creating workspaces that excite and engage the senses."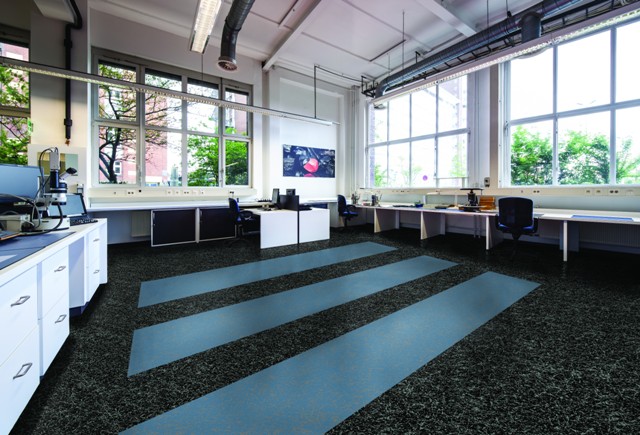 noraplan lona also offers the support, performance and focus essential to inspired learning spaces. The floor's engaging pattern and texture bring creative energy and flexibility to classrooms, while its durability supports a safer educational journey for students and staff.
The floor covering also offers these important attributes:
Simple maintenance regimen that requires little more than water and uses no waxes, sealants or harsh cleaners
Improved acoustics thanks to excellent footfall sound absorption
Naturally bacteriostatic and fungistatic
Dense, nonporous surface that helps repel dirt and bacteria while resisting stains
Absence of polyvinyl chloride (PVC), plasticizers (phthalates) and halogens (e.g., chlorine) for improved indoor air quality
GREENGUARD Gold Certified for low VOC emissions
Meets or exceeds OSHA requirements for slip resistance
Extended life cycle, which reduces the need for frequent removal and disposal
Like all nora® floor coverings, noraplan lona coordinates with other products in the nora portfolio of more than 300 standard colors and patterns to create a coordinated look throughout a facility.
Click the link to learn more about noraplan lona.