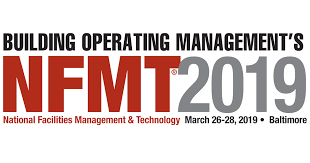 NFMT 2019
will be held March 26 to 28 at
the Baltimore Convention Center. It will be
NFMT is free to attend. Your registration includes access to more than 100 educational sessions, entry to the industry's largest FM Expo, facility tours and networking events.
NFMT membership is $99 a year. In addition to complimentary registration, your year-long membership includes benefits before, during and after the NFMT 2019. Plus, you'll receive a discount on pre-conference workshop registration.
NFMT was launched in 2001 by the publishers of Building Operating Management and Facility Maintenance Decisions magazines. The goal was to bring free education, networking and product discovery to facilities professionals nationwide. NFMT continues the tradition in 2019 by offering broad-based education for facilities professionals from every type of organization: government, education, commercial office healthcare, retail, hospitality and industrial.
NFMT Baltimore will feature:
100+ Facilities Management Educational Sessions
18 Hours of Continuing Educational Units (CEUs)
10+ education tracks and workshops
The largest expo hall for facilities professionals featuring more than 500 of the nation's most innovative top-tier companies showcasing their products and services.
Customize your NFMT experience from these conference tracks in key facilities professional areas:
Asset Management
Budget Management
Business Management
Codes and Standards
Construction/Renovation/Retrofit
Data and Metrics Management
Energy and Utilities Management
Improving Operations
O&M System Management
O&M Work Management
Risk Management
Staffing and Services
Workshops