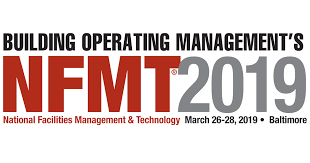 NFMT 2019
will be held March 26 to 28 at
the Baltimore Convention Center. It will be
Here are some best bets for education sessions:
Government and Education
For Busy Facility Managers: Conserve Your Time with Energy Automation from CP Pitones, National Account Executive, Yardi Energy.
Existing Buildings – Path to Zero from Allan Skodowski, LEED Fellow
Principal, Rivion LLC.
Top Facility Challenges and How to Address Them Utilizing a Documented EBCx Process from Tony DiLeonardo, LEED AP, CxA, President, Wick Fisher White.
FBPTA In Action: How Federal Agencies Use FBPTA Tools To Enhance Training Programs & Improve Building Performance from a panel.
Top Strategies for Running Schools Around the Country from Stephen P. Ashkin
President, The Ashkin Group, LLC., and Ryan Berlin, Managing Editor, Facility Maintenance Decisions.
Federal Real Property Management – Recent and Future GAO Work from Keith Cunningham Assistant Director U.S. Government Accountability Office.
Stewardship of Performance: Design Considerations for the  Next Generation of Federal Facilities from Greg Rea Group Manager Federal Aviation Administration, Tech Ops Facilities and Engineering Services.
Creating Facilities for the Next Generations of Students from Moderator: Greg Zimmerman,  Executive Editor Building Operating Management; Randolph Campbell, FMP, CEFP
FM-McCormick Zone Manager, Facilities Management, University of Virginia.
Smart Cities and their Effect on Facility Management from Paul Doherty President and CEO the digit group Inc.
Future Ready Design Considering a Holistic Building Approach with Amanda Stacy, LEED Green Associate, Building Enclosures and Paul Totten, P.E., VP, WSP/Parsons Brinckerhoff.
Commercial and Healthcare
ADA Workshop: Guidance on ADA Requirements for Facilities Managers, Joan W. Stein, president, Stein Consulting LLC.
Building Relationships with Top Management, Stanley G. Mitchell, FMIFM, FRICS, IEng
CEO, Key Facilities Management;  Edward Sullivan, editor, Building Operating Management Magazine; Rick Petito, director, Office of Facilities Management & Reliability, Smithsonian.
Conquering the EH&S Challenges That All Facility Managers Face, Mark Roman
president, Envision Environmental, Inc.
Developing an Effective Scope of Work for Operations & Service Contracts with Jake Smithwick, University of North Carolina.
Preparing Intelligent Buildings for Immersive, Personalized Experiences through Practical Network Infrastructure Design with Todd Boucher, principal, Leading Edge Design Group.
Achieving Operational Excellence Workshop with Teena Shouse, CFM, IFMA Fellow, principal, FM Transitions and James P. Whittaker, P.E., CFM. FRICS, Director of Engineering Services-Americas, JLL.
Comparing Five Current Methods of Collecting Utilization Data with Dan Lorenz, FMP, AMS CAD + CAFM Solutions.
Building Relationships with Top Management with Stan Mitchell, CEO, Key FM, Edward Sullivan, Editor, Building Operating Management magazine, and Rick Petito, Director, Office of FM & Reliability, Smithsonian.
Live from the Podcast: FM Insights & Innovation from Top Industry Leaders with Mike Petrusky, Director of Events & Growth Marketing, iOFFICE.
Airports
Construction Costs: What the Data Says from Tim Duggan, Director of Cost Analytics
Gordian.
Tips for Implementing a Successful Asset Management Program from Andy Gager CMRP, CPIM, CAMA, Managing Director, Nexus Global Business Solutions, Inc.
Drone Mapping and Laser Scanning: Transforming Facilities Management from Amr Raafat, Director of Virtual Design & Construction, Windover Construction.
New Connectivity Solutions for Old Power, Space and Cooling Problems from Matt Miller Associate Vice President and Senior Solutions Architect, CallisonRTKL's Technology Design Studio.
Arc Flash, OSHA and NFPA 70E: Get Protected from Doug Tellin Owner, Electrical Safety Specialists, LLC.
Significant Changes in the 2018 International Building Code from Clay Aler, Principal, Koffel Associates.
NFMT is free to attend. Your registration includes access to more than 100 educational sessions, entry to the industry's largest FM Expo, facility tours and networking events.
NFMT membership is $99 a year. In addition to complimentary registration, your year-long membership includes benefits before, during and after the NFMT 2019. Plus, you'll receive a discount on pre-conference workshop registration.
NFMT was launched in 2001 by the publishers of Building Operating Management and Facility Maintenance Decisions magazines. The goal was to bring free education, networking and product discovery to facilities professionals nationwide. NFMT continues the tradition in 2019 by offering broad-based education for facilities professionals from every type of organization: government, education, commercial office healthcare, retail, hospitality and industrial.
NFMT Baltimore will feature:
100+ Facilities Management Educational Sessions
18 Hours of Continuing Educational Units (CEUs)
10+ education tracks and workshops
The largest expo hall for facilities professionals featuring more than 500 of the nation's most innovative top-tier companies showcasing their products and services.
Customize your NFMT experience from these conference tracks in key facilities professional areas:
Asset Management
Budget Management
Business Management
Codes and Standards
Construction/Renovation/Retrofit
Data and Metrics Management
Energy and Utilities Management
Improving Operations
O&M System Management
O&M Work Management
Risk Management
Staffing and Services
Workshops