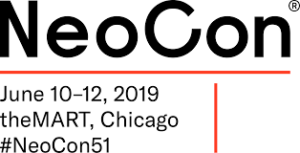 Held every June since 1969, NeoCon is the commercial design industry's premier event for ideas and innovation. This year, NeoCon will be held June 10 to 12 in Chicago at The Mart. It will feature more than 500 companies showcasing thousands of new products and services in nearly 1 million square-feet of exhibition space. Fifty-thousand design professionals from workplace, healthcare, hospitality, retail, education, public space and government and commercial design are expected to attend. NeoCon will feature 100 accredited seminars plus daily keynote presentations and special programs.
Register online for free for the exposition by June 7. Onsite registration is $60. You can register for CEU seminars online as well. They are $65 each by June 7 and $75 each onsite. The keynote presentations are free and prices vary for special tour events.
NeoCon 2019 hotels are now available. In partnership with onPeak, NeoCon has secured discounted rates at a selection of Chicago hotels. Book early for the best selection and price. Click here to book from the block hotels.
As always NeoCon features fabulous events, awards and parties. Here is a sampling of some of the events. Click here for a full list of industry and exhibitor events.
Best of NeoCon Award Winners' Breakfast
7:30 to 8:30 a.m., Monday, June 10, 2019. Doors open at 7:15 AM, The Renaissance Hotel Ballroom, One West Wacker Drive, Chicago.
Tickets $95
The Best of NeoCon 2019 award winners will be announced among industry peers on the opening morning of NeoCon. Now in its 30th year, the iconic competition honors the best new commercial interiors products in the industry, which are exhibited at NeoCon. Honors include Gold and Silver Awards, as well as Innovation Awards, Editors' Choice Awards, and one Best of Competition Award. See the 2018 winners. 
Exhibit Hall Happy Hour
3:00 – 5:00 p.m., Tuesday, June 12, 2018, Floor 7.
Enjoy afternoon cocktails, conversations and connections when the NeoCon energy and festivities move onto the 7th floor Exhibit Hall. Gather with A&D professionals while exploring hundreds of exhibitors from around the world.
BIFMA Annual Membership Meeting
7:00 – 7:40 a.m. breakfast | 7:40 – 8:55 a.m. meeting, Wednesday, June 12, 2019, NeoCon Theater, 19th Floor, The Mart.
Members of the Business and Institutional Furniture Manufacturers Association (BIFMA) and invited guests are encouraged to attend the Association's Annual Membership Meeting to hear the state-of-the-industry and state-of-the-association reports.
The keynote speakers are:
The Familiar and Unusual: An Investigation of Balance and Experience in Design
Robin Standefer and Stephen Alesch, Founders, Roman and Williams Buildings and Interiors, New York.
8 a.m., June 10, NeoCon Theater, 19th Floor, The Mart
Stuff Matters: The Material World We Make
Ilse Crawford, Creative Director and Founder, Studioilse, London
8 a.m., June 11, NeoCon Theater, 19th Floor, The Mart
Do No Harm: The Role of Design in Complicated Times
Liz Ogbu, Founder and Principal, Studio O, New York
11 a.m., June 12, NeoCon Theater, 19th Floor, The Mart
You can register for CEU seminars online as well. They are $65 each by June 7 and $75 each onsite. McMorrow Reports has put together this sampling:
[M125] Can Managing Acoustic Stimuli in the Workplace Help Reduce Burnout?
Monday, June 10 • 2:30 PM – 3:30 PM
Burnout costs an estimated $125-190 billion annually in healthcare spending. Much of the discussion about burnout has focused on individual factors and job characteristics. This seminar will work out some answers centered on workplace design. As more workplaces favor open office design, there is also more opportunity for distraction. Limiting acoustical disruptions with workplace interventions, such as sound masking and designating quiet workspaces, helps employees better manage these stimuli. And employers know that by harnessing design to prevent stress, they can help their employees stay focused, engaged and productive throughout the workday.
[T218] Net Positive Materials: The Future of Sustainability
Tuesday, June 11 • 1:00 PM – 2:00 PM
Raising the bar in sustainable design requires collaboration among designers, manufacturers and end-users. Using the Living Product Challenge as a guide, presenters will explore the latest advancements in regenerative design, life-cycle analysis, material transparency and biomimicry in the advancement of sustainable materials. Launched in 2015, the Living Product Challenge is the world's most advanced sustainability certification for products. The certification program calls us to reimagine the design and construction of products to function as elegantly and efficiently as anything found in the natural world.
[T233] Confluence – The Bridge Between 21st Century Pedagogy and Facility Design
Tuesday, June 11 • 4:00 PM – 5:00 PM
Since most schools are designed around architectural concepts that have little to do with education, it gets stuffed in as an afterthought. Presenters will discuss confluence, a term many designers now use to describe the design union of pedagogy (the software) and facility design (the hardware) in the creation of new schools that can address the needs of students and teachers. This session will also look at best practices in teaching and learning now available and in actual use at schools, as well as how this pedagogy is currently used to create a new model for 21st-century schools. Take-aways will include how best to fuse the best practices in pedagogy and facility design to enhance student engagement through authentic teaching and learning.