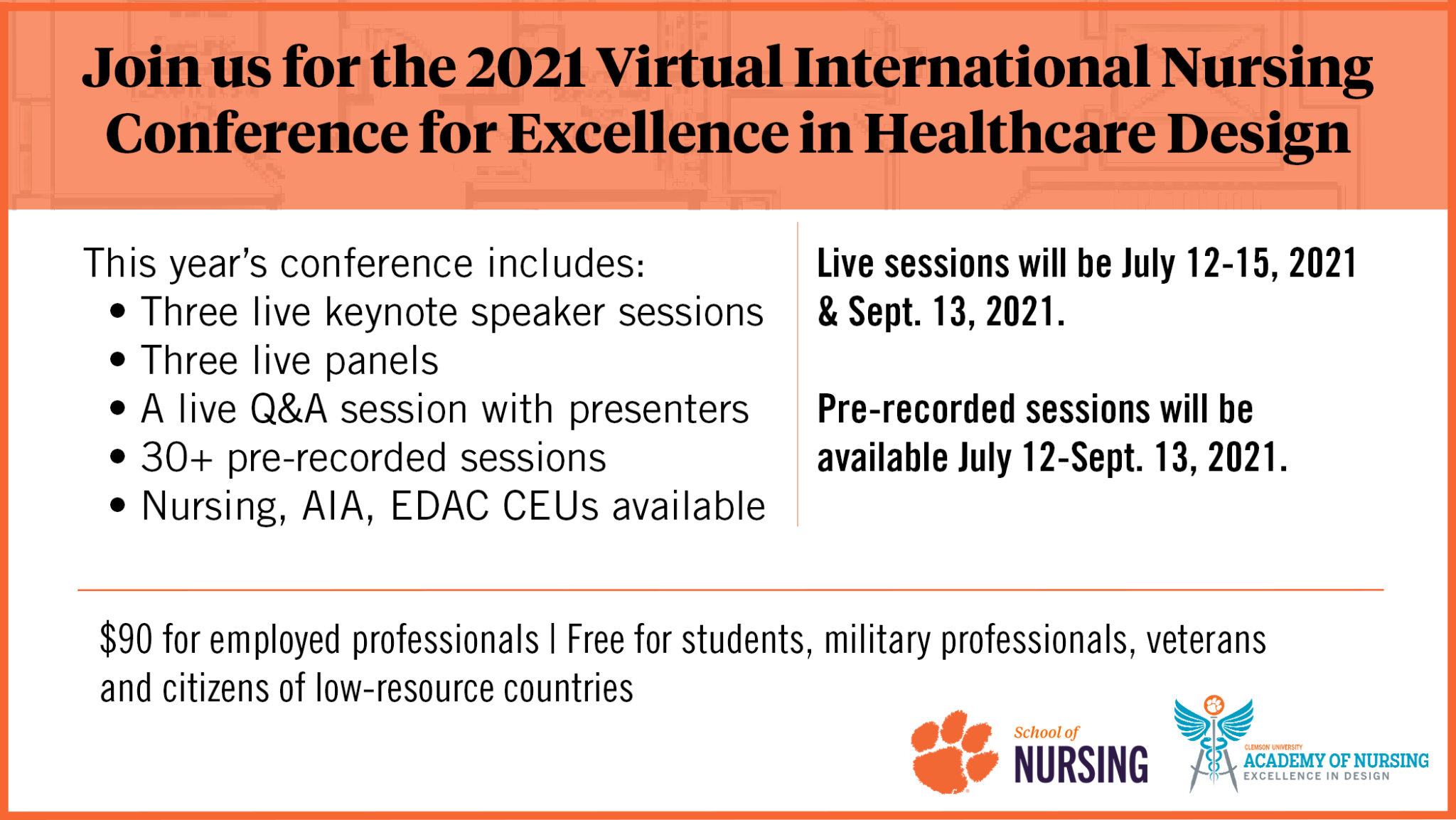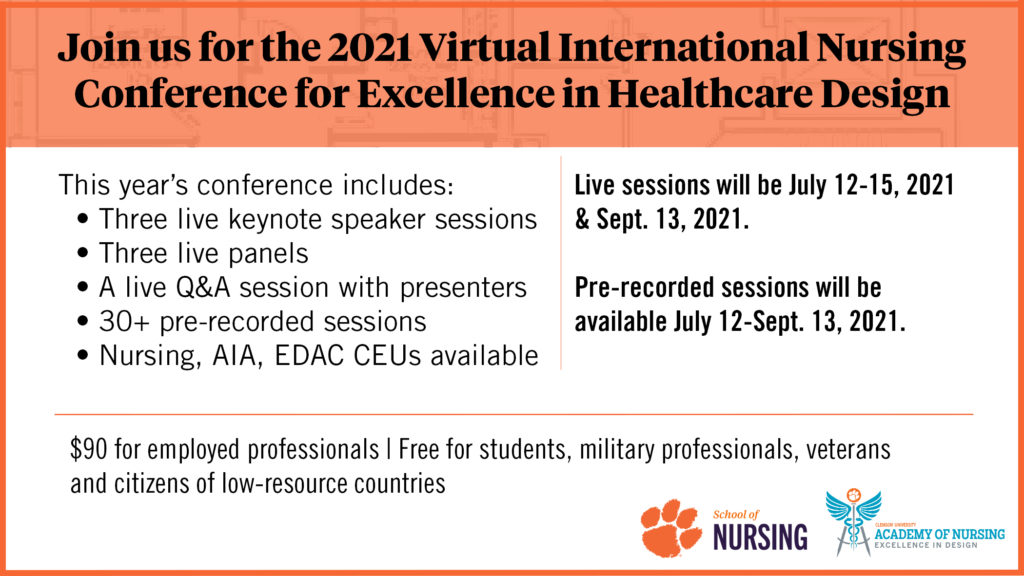 Mark your calendars for the 2021 Virtual International Nursing Conference for Excellence in Healthcare Design: Local to Global Research, Design and Solutions, presented by the Clemson University School of Nursing and the Clemson University Academy of Nursing for Excellence in Design.
The conference's goal is to stimulate innovation in healthcare design and encourage interprofessional collaboration and engagement. The research-focused agenda will foster an inclusive platform for healthcare design settings that expands and supports the role of nurse leaders.
This online conference is the second one the Academy and the Clemson University School of Nursing have hosted. The conference is also in joint providership with the Upstate Area Health Education Center (AHEC), located in Greenville, South Carolina.
The event will feature a combination of live webinars and asynchronous presentations. The conference will open July 12, 2021, with keynote Tim Porter-O'Grady, DM, EdD, ScD(h), APRN, FAAN, FACCWS.
Additional keynote speakers are:
David Allison, Alumni Distinguished Professor and Director of Graduate Studies in Architecture + Health, Clemson University.
John Maher, Senior Associate at MASS Design Group
John Shakpeh, Director of Nursing and Midwifery Services at Redemption Hospital in Monrovia, Liberia
Nathan McNeese, Director of the Team Research Analytics in Computational Environments (TRACE) Research Group, Clemson University
There will also be a panel featuring leading experts from nursing and healthcare design who will speak on the current state of healthcare design and its dynamic future. The panelists are:
Michelle Trott, AIA, NCARB, ACHA, LEAN Six Sigma Green Belt, Principal at CPL Architecture, Engineering, Planning, AIA Academy of Architecture for Health board member
Lori Stanley, DNP, MSM, RN, NEA-BC, CENP, Vice Chair of Nursing Academics for Prisma Health
Brenda McDermott, MSN, EDAC, Clinical Lead for the Defense Health Agency Facilities Division
Erin Clark, RN, M.S., EDAC, Clinician Operations Specialist and Transition Planner, Founder of ClarkRN, Nursing Institute for Healthcare Design President
The conference will also feature a panel of leading experts from nursing and artificial intelligence (AI) who will explore AI's place in the healthcare environment, how AI can be applied to improve clinical care environments, and how it can be used to enhance the design of the physical environment.
The panelists are:
Suzan Ahmad, Ph.D., MSN, RN, Assistant Professor, Rutgers University
Whende Carroll, MSN, RN-BC, FHIMSS, Nursing Informatics, KenSci, Inc.
Jim Peraino, RA, EDAC, Co-founder/CTO, Spatio Metrics
Maxim Topaz, Ph.D., RN, MA, the Elizabeth Standish Gill Associate Professor of Nursing at the Columbia University School of Nursing
The conference will feature more than 35 presentations, and they will be available to view from July 12 to Sept. 13. CEUs will be available, and the cost is only $90. Visit our website for more information and to sign up for our listserv, or contact nursingconference@clemson.edu.