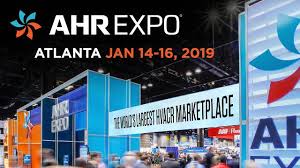 The 2019 AHR Expo will be held Jan. 14-16 at the Georgia World Congress Center in Atlanta. It will host more than 2,100 exhibitors attracting crowds of more than 60,000 industry professionals from every state in America and 165 countries worldwide.  The show provides a unique forum for the entire HVACR industry to come together and share new products, technologies and ideas. Attendees can choose from hundreds of seminars and demonstrations on the exhibit floor and in the classroom. Registration is free.
The AHR Expo is co-sponsored by ASHRAE and AHRI, endorsed by many industry leading organizations, and is held concurrently with ASHRAE's Winter Conference.
The AHR Expo, the world's largest HVACR marketplace, will return to Atlanta for the first time since 2001 for its 2019 Show at the Georgia World Congress Center. HVACR accounts for billions of dollars in revenue and is a key economic driver for the state of Georgia, with U.S. Department of Labor projections indicating it will see nearly 20 percent growth in the coming years. With this booming HVACR market, the region is a top location to host the next AHR Expo.
The AHR Expo Innovation Awards is an annual competition that honors the most inventive and original products, systems and technologies showcased at each year's AHR Expo. Products go head-to-head in the following categories: building automation; cooling; green building; heating; indoor air quality; plumbing; refrigeration; software; tools & instruments; and ventilation. Winners are selected by a panel of third-party ASHRAE member judges who evaluate all award entries based on innovative design, creativity, application, value and market impact.
Click to see education sessions. 
Click to see a directory of exhbitors.