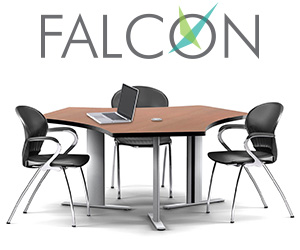 Falcon's Symetris table collection is created to meet today's technology and design needs. Symetris is a full collection applicable for a variety of applications, including: classrooms, lecture halls, meeting spaces, and collaborative areas.
The design aesthetic of Symetris boasts a very thin minimalist profile that minimizes obstructions to users. All base components are comprised of recycled materials; the foot and mounting plate punctuate this content with our signature 98% post-consumer recycled iron, obtained mostly from engine components.
Symetris is available in rectangles, pie connectors, squares and rounds to accommodate any configuration and offers freestanding, shared leg, permanent mount, tiered heights or flip top options.
Thin profile tabletops create symmetry with the low profile foot. Any laminate or Veneer-Art product may be used to create a casual or formal look. The modesty panel works double duty as a wire manager, as well as a support beam that prevents the tables from bowing under heavy use. Symetris offers multiple power options, including a non-sequential 15-amp system that is perfect for the client who wants power but needs to frequently reconfigure the space often.