World Workplace is offering more than 100 education sessions ranging broadly from BIM to global FM trends to change management to facility digitization.  IFMA's annual World Workplace program makes it clear that the education of facility management professionals is of the highest the importance. FMs will learn learn from sessions such as:  The Language of Metrics: How FMs Measure Success; Prove it: Using Data to Drive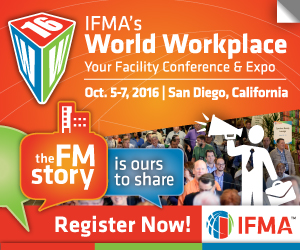 Workplace Innovation, and Fun Factor: Eight Dimensions of Designing Fun in the Workplace.
Here are sessions the McMorrow Reports recommends for corporate facilities managers:
"A Conversation with the CFO" – How to Get a Seat at the Table by Connecting Workplace Strategies to Shareholder Value with Mr. Barry Lynch CFM, SFP, MBA, IFMA Fellow, Strategic Facility Planner/ Workplace Strategist, Labarre Associates, Inc.
Advancing Facility Management: How Facilities Managers Can Prepare for Changes in Expectations with Scalable Solutions with Maureen Ehrenberg, FRICS, CRE, JLL, and Brad Shokes, SVP, IFM; business lead, Facilities Flex, JLL.
Managing Risk and Being Prepared: Demonstrating the Strategic and Practical Value of Facility Management with Mark Sekula, FMP, SFP, CFM, IFMA Fellow, president, Facility Futures, Inc., and Christopher Hodges, P.E., CFM, IFMA Fellow, FRICS, Principal, Facility Engineering Associates PC.
Internet of  Things for FM: The Quantified Building with Eric Teicholz, IFMA Fellow, president, Graphic Systems, Inc., and Erik Jaspers, CTO, Planon, B.V.
You Are Not in This Alone . . . How to Best Optimize Your Contracted Services with Teena Shouse, CFM, IFMA Fellow, Principal, FM Transitions; Ted Ritter, managing partner, Verdecom; and Peter Stroup, PE, Director of Facilities, Harvard Medial School.
Where Have All the Young People Gone? Innovative Mentorship Designed for the Future with Hillary Frisbie-Aponte, operations manager, Ropes & Gray; Ryan King, Business Analyst-Strategic Consulting, FM, Computerized Facility Integration.
Looking into the Future: Findings from the IFMA Outsourcing Global Research Report 2015-16 with Stephen Ballesty, MBA, CFM, FRICS, FAIQS, ICECA, Rider Levett Bucknall, Sydney, Australia; and Jeffrey Campbell, IFMA Fellow, professor consultant, Brigham Young University.
Human Wellbeing: The WELL Building Standard and the Economic Case for Biophilic Design with Mary Golden, Green Plants for Green Buildings, and Jim Mumford, CLP, GRP, Good Plants and Greenscaped Buildings.
Sustainable Development + Increased Profits + Enhanced Experience with Dan Munn, SE, LEED AP, Global Enginering Leader, and Ruari Barnwell, BEAP, HBDP, QCxP, LEED AP BD+C, Energy Services Leader, DLR Group.
Prove it: Using Data to Drive Workplace Innovation with Joan Price, MCR, Managing Director; Chandra Lapsley, LEED AP ID+C Workplace Strategist;  and Christi Van Maanen, Studio Director, Gensler; and Sara Nomellini, AIA MCR SVP, CRE, LPL Financial.
What Can Cloud Do for You? The Benefits of Moving Asset Management Systems to the Cloud with Mike Stone, CMRP, Infor EAM.
The Expo:
Featuring more than 230 companies, the expo hours are:
Wednesday, Oct. 5 | 11:30 a.m. – 4:30 p.m.
Thursday, Oct. 6 | 10:30 a.m. – 3 p.m.
FMs can request a personal appointment with exhibitors through the online Attendee Service Center. Also FMs can learn from 30- to 60-minute informational sessions and product demonstrations providing insight into benefits, application and expected results in the Solutions Arena.
The International Facility Management Association's World Workplace 2016 will be held Oct. 5 to 7 in San Diego. IFMA is the world's largest and most recognized international association for facility management professionals with more 24,000 members in 105 countries.
Registration is open and FMs can save $100 registering before Aug. 13. Prices are $785 for members and $1,075 for non-members for the full event. The hotel booking deadline is Tuesday, Sept. 6.
World Workplace 2016 is featuring more than 230 exhibitors and more than 100 education sessions. Attendees can tour local facilities, request appointments with vendors and attend many networking and education sessions to further their careers.
IFMA is offering six facility tours around San Diego on Tuesday, Oct. 4, from 1 to 5 p.m. Each tour is $20 a person and includes transportation.
Other options for Tuesday, Oct. 4, are two deeper dive sessions running from 1 to 5 p.m.
DD 1 – High Heels and Hard Hats: Breaking Barriers, Convention Center, 3rd Level, Room 3. Lead by women trailblazers in the industry such as Meredith Thatcher. Presentations will include: Leading from the Middle: Changing the FM Mindset, Women Leading in Turbulent Times, panel discussions, round table discussions and activities.
DD 2 – Getting the Most from Your Physical Security Program, Convention Center, 3rd Level, Room 4.  Presentations will include Essential Elements of Security Programs, Effective Use of Security Technology, Getting the Most from the Guards and Guard Service Companies, and Why Security Programs Fail.