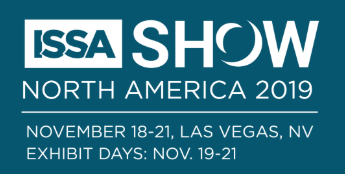 Registration is open for ISSA Show North America 2019, which takes place Nov. 18–21 in Las Vegas. The worldwide cleaning industry association, ISSA, expects with more than 16,000 cleaning and facility solutions professionals and 700-plus exhibits.
For the first time in the event's history, more than 100 education sessions will be available. Each will be led by an industry expert. Attendees can select individual sessions they wish to attend, or they can follow one of several curated education tracks. Here are some courses we are excited about:C
Managing Four Generations in the Workplace. Monday, Nov. 18, 10:45 – 11:30 a.m. In the cleaning industry, the modern-day workplace often has four generations working under one roof. Baby Boomers, Gen Xers, Millennials—and soon Gen Zers—each have different viewpoints, upbringings, culture, ideas, beliefs, and experiences, resulting in some tiffs or clashes within the organization. Best-selling author Jeff Butler, backed by a decade of psychological research, shares insights about motivations, differences, and communication styles of these generations. Learn how organizations across various industries are thriving with a multigenerational workforce. You'll find specific actionable strategies to manage your cross-generational challenges and turn your multigenerational workforce into a cohesive team. Jeffrey Butler, Millennial Generation expert and technology speaker at JButler International.
Million Dollar Leadership. Monday, Nov. 18 • 2:15 – 3: p.m. Perfect for managers who want more out of their staff and whose companies see value in continuously improving their culture. Learn why culture is so important to your business and how it can make your life easier. Develop the ability to hire and keep top talent. Become the leader you strive to be. He'll reveal the business-killer you never see coming. He may even tell you the story of how he went from all of his employees quitting his first day as a business owner to selling his latest multi-million-dollar business for seven figures. Mike Campion, Owner at Grow My Cleaning Company.
You Are Not Alone: Isolated Workers and Sexual Harassment. Tuesday, November 19 • 12:45- 1:15 p.m. Over the last few years, the prevalence of workplace sexual harassment incidents involving celebrities, politicians, prominent business figures, and other high-profile individuals became top news. This attention has slowly turned to the plight of the lower-wage service worker, including those employed in the cleaning services sector due to the higher incidence of sexual harassment among these isolated workers. State and federal lawmakers are now involved, as well as the unions that represent these service sectors. This panel will discuss how employers and employees can proactively address the issues and what legislative actions are being proposed that could affect the industry. John Nothdurft, Director of Government Affairs at ISSA.
Technology for Tomorrow. Thursday, Nov. 21, 9 a.m. – 10 a.m. Technological advancements in the cleaning industry seem to change daily. Discover the hurdles both expected an unexpected that rapidly changing technological advancements create. Learn from cleaning industry experts as this panel discusses how technology is changing for tomorrow—from floor robotics, product efficiency, diverse robotic platforms, drone cleaning, to industry technology. Leave the discussion prepared to address the outcome of technological implementation in your work environment. Phil Duffy, vp Innovation at Brain Corporation; Jon Hill, president at LaserClean Systems; Brad Watkins, head of commercial automation at SoftBank Robotics America; Greg Scott, Co-founder at Service Robotics & Technologies.
Standardize and Benefit with Cleaning Change Solutions. Thursday, Nov. 21, 1- 12:30 PM Are you a facility service professional? Do you feel like you're so overwhelmed in your job that you can't function? Do you receive complaints from customers, students, staff, and faculty on a regular basis? If your cleaning culture is so broken that you can't find a way to fix it, this presentation will show you how using an integrated systematic approach will provide satisfaction to staff and customers, as well as a complete picture of effective cleaning service. CMI's Consulting Program through Cleaning Change Solutions™ is an amalgamation of seven different guiding principles. The Cleaning Change Solutions strategic plan drives a cleaning organization to create positive outcomes. Cleaning Change Solutions guides overwhelmed organizations toward balance and stability to their custodial operations. Speakers: Tim Poskin, president at Clean Management Concepts, LLC.; Jenean Perelstein, process owner for Culture and Leadership Cleaning Management Concepts, LLC; Sean Fox-Elster, strategic workloading consultant at Process Driven Strategies, LLC.
Some workshops require separate fees but offer tremendous skills and certifications. Here are few you might pursue:
CIMS ISSA Certification Expert (I.C.E.) Workshop— Part 1 of 2, Monday, Nov. 18, 8 – 11:30 a.m. Part 2 1:15 TO 5 p.m. An I.C.E. designation makes you the expert on ISSA's Cleaning Industry Management Standard (CIMS) and equips you with the knowledge to assist your customers or your organization in preparing for—and achieving—CIMS and CIMS-GB certification. Plus, you have the opportunity to take an on-site exam and get certified on the spot. Gain an in-depth understanding of the requirements of CIMS and CIMS-Green Building (GB)—the gold standards of effective, efficient, and sustainable operations—in this interactive workshop. Separate registration fee of US$995 for ISSA members, $1,595 for nonmembers required.
Ingredient Communications Workshop. Monday, Nov. 18, 8 a.m. – 4:45 p.m. Join the Household & Commercial Products Association (HCPA) & ISSA for a day long workshop on ingredient communications, disclosure, and compliance. This workshop will take a deep dive into how to comply with the regulations, information on retailer requirements, and how HCPA and ISSA are advocating for reasonable disclosure guidelines. By the end of this year, intentionally added ingredients must be shared online in both California and New York State. Learn how we got here. Learn how to comply. Hear from companies and their efforts. While this workshop is held in conjunction with the ISSA Show, registration is separate. Go to www.thehcpa.org to register!
ISSA CMI Basic Restroom Care Certificatio. Tuesday, Nov. 19, 11 a.m. – 1 p.m. Restrooms are often a challenge in commercial, industrial, or institutional facilities. They sustain high usage day in and day out, and can require attention more frequently than in other buildings. Yet, they are key to any organization's success because the level of restroom hygiene directly impacts the overall impression of the facility. Understand effective cleaning techniques and best practices to eliminate the threat of cross-contamination, learn color-coding systems for ease and clarity, and understand new power equipment and tools to maximize efficiency and minimize time and labor. You'll leave with an ISSA Cleaning Management Institute (CMI) Restroom Care handbook and the opportunity to take an online exam to earn CMI certification. This course is a CMI-verified course compliant with the ISSA Training Standard. Separate registration fee of US$150.
ISSA CMI Hard Floor Care Certification. Tuesday, Nov. 19, 2 – 5 p.m. Gain a high-level overview of hard floor surface care and current trends, from new and efficient cleaning methods to solutions that address safety concerns and asset-protection issues. Discover how to handle new and unique floorings, such as polyvinyl sheeting, rubber, bamboo, laminates, and more. Leave with an ISSA Cleaning Management Institute (CMI) Hard Floor Care handbook and an opportunity to take an online exam to earn CMI certification. This course is a CMI verified course compliant with the ISSA Training Standard. Separate registration fee of US$150.
Attendees can also learn about new technologies and products in the Innovation Center. See sessions here.