Demand from large cloud users drove U.S. data center leasing to record levels in 2018, providing momentum for new construction in the sector this year, according to CBRE's latest U.S. Data Center Trends Report.
The seven primary U.S. data center markets saw 303 megawatts of net absorption in 2018, up more than 16 percent from 2017's then-record total. That absorption nearly eclipsed the 322 MW of capacity added last year. Northern Virginia, the largest data center market in the world, accounted for 58 percent of net absorption in the primary markets.
"We are closely watching supply and demand trends across the U.S. data center market in 2019 and beyond, particularly as data consumption—driven by the adoption of big-data analytics, 5G, gaming, streaming services, edge computing and the internet of things—continues to drive growth," said Pat Lynch, senior managing director, Data Center Solutions, CBRE. "Meanwhile, we've seen robust construction activity as operators try to position themselves to rapidly deliver facilities within users' often-tight schedules."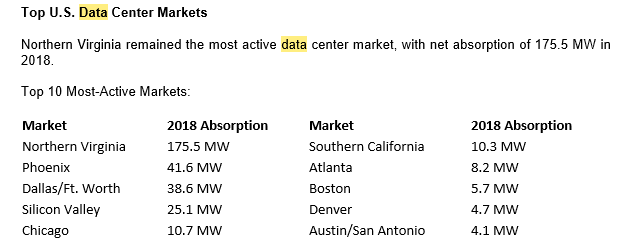 Strong demand has resulted in more than 500 MW of capacity under development in the primary U.S. markets, up significantly from the 228 MW underway at the end of 2017. Northern Virginia accounts for two-thirds of the current construction activity, primarily due to large requirements from cloud users. With 336.9 MW under construction, Northern Virginia's pipeline is larger than the existing inventory of any U.S. data center market.
Other markets with significant construction activity include Phoenix, with 71.4 MW under construction at year end; Dallas-Fort Worth, Texas, (37.4 MW); Houston (23 MW) and Atlanta (20.9 MW).
Capital Investment Trends
North American data center investment volume reached $12 billion in 2018, inclusive of single-asset, portfolio and entity-level transactions. While investment was down from 2017's record-setting $20 billion, this was largely due to limited North American entity-level investment opportunities compared to 2017.
Not included in the investment-volume figures are land transactions earmarked for data-center development. Land acquisition and land banking can play a significant role in various markets, given that Atlanta, Houston and Phoenix offer numerous developable lots, but land is scarce and expensive in other data center hubs like Northern Virginia and Silicon Valley.
"The data center market will continue to evolve and adapt to the demands of today and tomorrow," Lynch added. "We expect to see a continued influx of capital into the sector from new investors and infrastructure funds seeking to diversify their portfolios, as well as increased investment and expansion in global regions previously untapped by providers and cloud users."