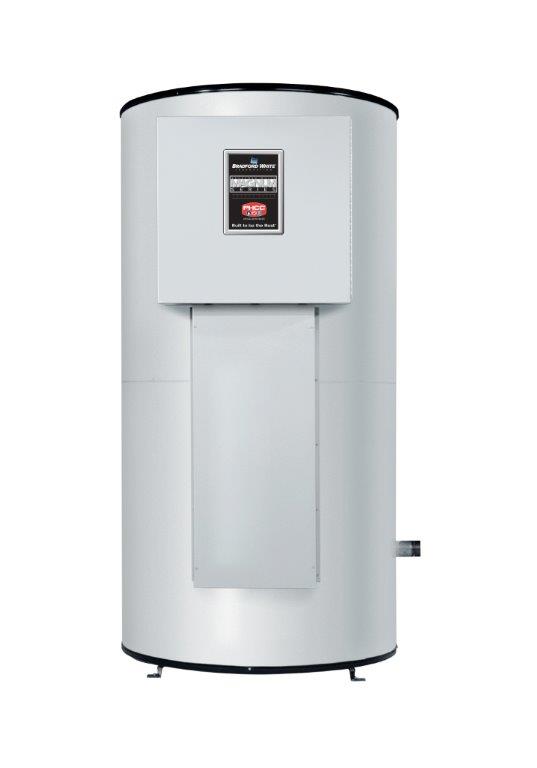 Bradford White's Electric Brute Series of large volume water heaters and the recently introduced ElectriFLEX Series™ of Light Duty, Medium Duty, and Heavy Duty field convertible models, offer customers a wide range of commercial electric water heating solutions. All of these products are proudly engineered and manufactured in Bradford White's Michigan-based facilities. The Electric Brute Series is the newly, re-engineered addition to Bradford White's comprehensive commercial electric water heater lineup.
According to Chad Sanborn, product marketing manager at Bradford White, developing the improved Electric Brute Series was an integrated effort. " The Electric Brute™ Series is an example of our multiple engineering teams working together to develop an enhanced and cost-effective solution for large volume, electric applications."
Designed to supply hot water in the largest demand applications, the Electric Brute Series is available in capacities ranging from 150 to 2,500 gallons. With inputs starting at 12kW and reaching 360kW, and voltages from 208V to 600V, you can meet the requirements of virtually any application. Every Electric Brute Series model is UL certified to the UL 1453 standard.
Suitable for large commercial and industrial applications where high recovery and extreme hot water output are required, Electric Brute Series water heaters feature durable and corrosion resistant low watt density INCOLOY® alloy 800 elements. Standard construction on all models includes 150 psi max working pressure and lifting lugs for convenient installation, both at no additional cost.
Highly efficient Electric Brute Series water heaters can also be ordered with a wide array of available options. These include BMS contacts, low water cut-off, electric step controller, low and high pressure switches, time clocks, and powered anode rods, just to name a few.
Easy to maintain and built for simple, trouble-free operation in the most rugged conditions, the Electric Brute Series offers a three-year limited tank warranty and is an excellent choice for hospitals, apartments, dormitories, commercial laundries, and more. An available double-glass option extends the product warranty to six years.