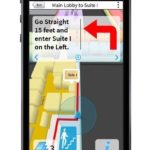 Connexient and Hackensack University Medical Center (HackensackUMC), based in Hackensack, NJ, have partnered to drive innovation, transformation and enterprise ROI in healthcare that will encompass two tracks:
An enterprise deployment of MediNavTM Navigator Edition 2.0 to implement an innovative "Airline check-in model" that will greatly enhance patient experience while reducing missed or late appointment and increasing operational efficiency for HackensackUMC; and
A collaboration to develop pioneering Indoor Navigation and Augmented Reality features on Google's revolutionary Project Tango platform.
Powered by Bluetooth Low Energy (BLE) Beacons and sophisticated handset sensor fusion technology, MediNavTM Navigator v. 2.0 features an advanced, true turn-by-turn indoor navigation and rich location-based features that users have come to expect from Google or Apple in the "outdoor world.  HackensackUMC will leverage the Connexient API + SDK to integrate MediNav maps, routing, directions and navigation into the new HackensackUMC mobile app patient engagement mobile application, Web site and patient portal.